#0107* - UKIP CORONATION PROCESS for LEADER
Clean EUkip up NOW
&
make UKIP electable!
The corruption of some of EUkip's leadership,
their anti UKIP claque in POWER
&
the NEC
is what gives the remaining 10% a bad name!
UKIP CORONATION PROCESS for LEADER!
Not Much Hope of a Clean Up Here Then!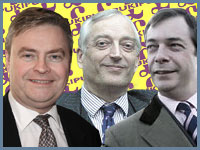 IMPORTANT DATES IN SELECTION TIMETABLE:
I hear UKIP have announced the closing date for nominations is 27-Sep-2010
The hustings dates for the UKIP Party Leader election contest have been announced by Party General Secretary Arnott.
There will be seven hustings held across the country, as detailed below:
We note this coronation for Farage is being organised for his convenience - well increasingly it is obviouse this is the Farage Party - one wonders howmany hustings he will bother turning up to - his contempt for the party and its members last time he rigged the leadership election was such he only went to 3 as he knew the result.
This time we note he doesn't even have any interest in Scotland or Wales - I guess phoning his way through the
membership data base
makes more sense for the UKIP staff than bothering with hustings and talking to all those stupid members!
No Date Announced for a pre Selection Farage Fanzine but presumably an
Independence
News
is scheduled to promote Farage.
South West region:
Best Western Tiverton Hotel, Tiverton, EX16 4DB.
Tuesday 28th September, 7pm for 7.30pm start.
London region:
Holiday Inn, Coram Street, Bloomsbury, London WC1N 1HT
.
Saturday 2th October, 12.30pm for 1pm start.
South East region:
Shoreham Centre, Pond Road, Shoreham-by-Sea, West Sussex, BN43 5WU
.
Sunday 3rd October, 12.30pm for 1pm start. Car park opposite the venue. Contact number 01273 454 686.
Eastern Region:
Best Western Hotel, Orton Hall Hotel, The Village, Orton Longueville, Peterborough, PE2 7AM
.
Sunday 10th October, 12.30pm for 1pm start.

Yorkshire region:
Carlton Park Hotel, Rotherham, S60 2BG
.
Tuesday 12th October, 7pm for 7.30pm start.
West Midlands region:
Great Barr Hotel, Birmingham
.
Wednesday 13th October, 7pm for 7.30pm start.
North West region:
Tower College, Rainhill, Merseyside
.
Friday 15th October, 7pm for 7.30pm start.
The Results will be announced on 05-Nov-2010
NO MENTION OF A VOTE!!!!!
Why are we not surprised as far as I can work out UKIP has NEVER had a fair internal election -
NEVER
You will note Bannerman, Farage's poodle, is standing to split the opposition support, as he did last time.
Lord Pearson steped down as UKIP leader on September 2nd, as predicted
Farage
announced he is taking over the leadership of his party again at at his fan club meeting in Torquay.
To read the background to Pearson's totally predicted departure and the reasons for it and his plans
CLICK HERE
Reclaim YOUR Future
&
GET YOUR COUNTRY BACK
Write Upon Your Ballot Paper at EVERY election:
(IF You Have No INDEPENDENT Leave-the-EU Alliance Candidate)

LEAVE-THE-EU
to Reclaim YOUR Future
&
GET YOUR COUNTRY BACK